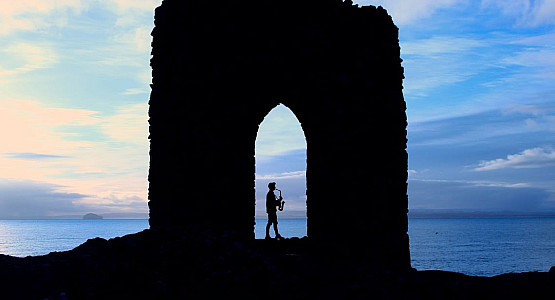 Welcome to a taste of ENF 2021 On Film. Stuart Armitt captured these performances for the festival, allowing us to share the music and musicians we love with a global audience. David Behrens captured the loveliness of the East Neuk in 3 very different and very special shorts
Watch when you like: All films are free to view thanks to the generous cooperation of the artists.  If you enjoy watching please help us continue our work by making a donation using the donate button at the top of this page or using text address in the video. Every penny will go to making ENF 2022 possible!
Late in the evening of 1 July, Benjamin Baker played Bach for us in the Kellie Castle Labyrinth, which we filled with gently flickering flames.

'A Day in the East Neuk' was an ENF Big Project for 2021, created by David Behrens drawing on contributions from many community photographers and filmers. We asked them to capture the landscapes, moments and aspects of the East Neuk and here is what they shared.

Ben used his ENF Retreat to work towards a new recital project called Sei Solo – a pun from the title page of Bach's six Sonatas and Partitas for solo violin. It means both 'You are alone' and (almost) 'Six Solos'. Ben has used his time to develop his playing on gut strings, and to learn from Bach authority, David Watkin. He also explored works by Steve Reich and Nico Muhly to pair with Bach, and the full project will be realised at ENF 2022. We offer this sonata as a work in progress. Stuart Armitt has filmed it as a journey from darkness to light.
Sean Shibe was due to have an ENF Retreat in 2020 to develop his ideas for forming a guitar quartet which finally came to fruition in June 2021. This film is a report and an offering of work in progress, including performances of music by Arvo Pärt on acoustic guitars then by Daniel Zidane and Fred Frith on electric guitars. ENF Retreat as able to go ahead (albeit reduced) in 2020 as it is mostly a 'behind closed doors' project focused on rehearsal and experiment. We are grateful to Crail Church Hall for hosting us.

David Behrens made this short film to inspire East Neuk photographers to join in our Big Project – we think it's magical.
Llŷr Williams plays what he considers to be one of Mozart's greatest and most fascinating sonatas, K.333 in Crail Community Hall is an Arts and Crafts inspired former-church, one of our core venues.

Making her ENF debut, Oud player Rihab Azar offers a set written both for oud solo, and for oud + loops/pedals, performed in the newly restored, Dreel Halls in Anstruther which opened its doors to audiences this summer.

With our partners at Kellie Castle, we created a labyrinth in the wild flower meadow as a place for quiet and reflection and to enable young musicians to come to play… Thanks to Stuart Armitt, Jackie Chalmers and David Behrens.

Sean Shibe was due to have an ENF Retreat in 2020 to develop his ideas for a guitar quartet. As regulations did not allow it, he spent some of that time working on his lute, an instrument he has taken up recently. He focused on music collected in the Balcarres Lute Book, the most important 17th Century collection from Scotland. We gained permission for him to take the music back to Balcarres House which is in the East Neuk, and he recorded this selection of pieces in The Panel Room – a space in which, perhaps, it was played 4 centuries ago. Balcarres is an ancient East Neuk estate, and was clearly home to great music lovers: the Balcarres Lute Book was compiled here: it is a huge book and includes repertoire from throughout Europe.
Llŷr Williams gave a memorable performance of Chopin's Ballades at ENF a few years ago, and brings his gift for shaping a whole cycle of works into a compelling whole here. The journey through the 24 Preludes is elliptical and rich. Crail Community Hall is an Arts and Crafts inspired former-church, one of our core venues.

Making her ENF debut, Oud player Rihab Azar offered two sets – this is acoustic and dominated by traditional repertoire, and other works by Oud masters she admires. I love the tiny woodland church of Dunino, and it has been a magical venue for many intimate concerts. This year it would have been impossible for us to have and audience here so we take advantage of filming to visit it.